Any member of the 4 Okanagan Stamp Clubs can post a FREE ad in the classified section.  Please submit your ad copy and pictures to your club liaison officer for publication in the website.  Club liaisons are:
Vernon – Roy      Kelowna – Ed    Penticton – Gus   OMPA – Mark
FOR SALE or WANTED
Kelowna's Bennett Bridge 10 Year anniversary
Peter Lepold has created for the 10th anniversary of the Wm R Bennett bridge a commemorative stamp. In addition there is a First Day Cover and First Day Postcard. As usual there is only a limited number of stamps printed. Items can be purchased directly from Peter or subject to availability at the next Kelowna Club meeting which won't be until Sept.10 2018
Red Baron – Manfred von Richthofen
This year marks the 100 anniversary when the Red Baron was shot down over France in 1918. He was the German WW1 air force ace who shot down more Allied planes than any other.
This commemorative stamp shows his portrait and his red Fokker plane. Some of the covers and cards also show "Snoopy" of Peanut fame who made the Baron famous once again in the last few years.
Cost for each stamp is $5.00, covers and cards are $7.00  ea. – plus postage. Price is subject to change after Sept. 10, 2018. Larger purchases qualify for a discount
Contact: Peter Lepold, 278 Bornais St. Kelowna, BC, V1X 7B6 – lepold@telus.net – 250-765-3502
For Sale  Exhibit frames holding a 16 page exhibit. The OMPA bought these about 20 years ago for our National Show and they have been in dry storage ever since.  There are 2 frames (4 sides) per box, and 3 boxes.  We paid $600 for them back in the day, $100 each frame.  Now available at $50.00 each frame.  These are in great condition, not quite VF, but closer to F+.  The OMPA is open to offers for some, one or all as a lot.  Please contact Roy by email to : mailto:rhein2@telus.net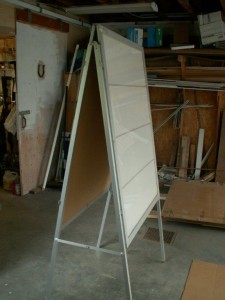 WANTED
Wanted – Lundy, –  MNH or used (no covers or errors) before 1950. Please contact Blaine at: mailto:martinac1@telus.net (Nov 2017)
Wanted – Canada#12 used VF (perfs not cutting design) Please contact Blaine at: mailto:martinac1@telus.net (Nov 2017)
Wanted – Perfins and precancels on Canada and/or Province revenue stamps. Please contact Blaine at: mailto:martinac1@telus.net (Nov 2017)
Wanted – Canada 2554-5 War 1812 adjoined pair, VF NH contact Gary Fisher at mailto:gwfish@shaw.ca (Oct 2017)
Wanted – Canada used #'s 2727,2744,2754,2764,2789,2815d,2851,2852,2883  please contact Ed at: mailto:ehaasdyk@shaw.ca  (Nov 2016)
Wanted – Postcards which are playable as phonograph records. Please contact Blaine at: mailto:martinac1@telus.net (Mar 2016)
[Top]