Any member of the 4 Okanagan Stamp Clubs can post a FREE ad in the classified section.  Please submit your ad copy and pictures to your club liaison officer for publication in the website.  Club liaisons are:
Vernon – Roy      Kelowna – Ed    Penticton – Gus   OMPA – Mark
FOR SALE or WANTED
For Sale – 150 Years O'Keefe Ranch Anniversary. These stamps commemorates the Ranch located north of Vernon, BC which was founded by Cornelius O'Keefe. There is a P value stamp with a Maple Leaves and Balloon Frame. In addition to stamps there are covers and postcards. This stamp has been reviewed in the Canadian Stamp News of June 15, 2017 and the Vernon "Morning Star"  Items can be purchased at the Ranch or the stamp designer Peter Lepold – 278 Bornais St. Kelowna, BC, V1X 7B6 or mailto:lepold@telus.net
For Sale – 150 Year Canada Confederation – Canada Post printed these stamps for release on Jan. 3, 2017. There are two different "P" values and a $2.50 air mail rate and various First Day Covers. The Royal Canadian Philatelic Society magazine showed this stamp on their front cover of the July/August 2017 magazine and printed a story of this design. Information contact: Peter Lepold, 278 Bornais St. Kelowna, BC, V1X 7B6 – or mailto:lepold@telus.net. 250-765-3502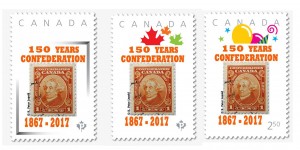 For Sale – The OMPA has been approached by a collector who is looking to sell their lifetime collection of African countries.  Mostly mint, lots of sheets, strength is in the 1970's to 1980's including:
1) comprehensive collection of African stamps like Burkina Faso, Kenya, Tansania, South Africa, Guinea, Gabon, Somalia, Mauritius both mint and stamped. Burkina Faso and Somalia also contain sheets and half sheets. There also is the odd stamp from the United Arab Emirates (Fujeira).
2) comprehensive collection of European stamps like Austria, Germany, England, France, Russia mostly stamped, some German mint sheets.
3) small collection of vintage stamped postcards England, Austria, US, India as early as 1904
If you are interested, please contact mailto:OMPA@shaw.ca and we will arrange for you to meet.
For Sale  Exhibit frames holding a 16 page exhibit. The OMPA bought these about 20 years ago for our National Show and they have been in dry storage ever since.  There are 2 frames (4 sides) per box, and 3 boxes.  We paid $600 for them back in the day, $100 each frame.  Now available at $50.00 each frame.  These are in great condition, not quite VF, but closer to F+.  The OMPA is open to offers for some, one or all as a lot.  Please contact Roy by email to : mailto:rhein2@telus.net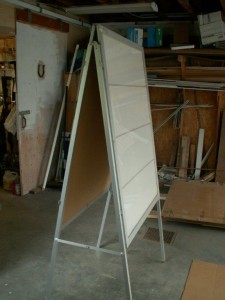 WANTED
Wanted – Lundy, –  MNH or used (no covers or errors) before 1950. Please contact Blaine at: mailto:martinac1@telus.net (Nov 2017)
Wanted – Canada#12 used VF (perfs not cutting design) Please contact Blaine at: mailto:martinac1@telus.net (Nov 2017)
Wanted – Perfins and precancels on Canada and/or Province revenue stamps. Please contact Blaine at: mailto:martinac1@telus.net (Nov 2017)
Wanted – Canada 2554-5 War 1812 adjoined pair, VF NH contact Gary Fisher at mailto:gwfish@shaw.ca (Oct 2017)
Wanted – Canada 165ai, 166i, 173i, 218i, 241a. Also Jubilees F/VF NH or better 55,58,57,59,60 contact Mark at   mailto:OMPA@shaw.ca (Oct 2017)
Wanted – Canada used #'s 2727,2744,2754,2764,2789,2815d,2851,2852,2883  please contact Ed at: mailto:ehaasdyk@shaw.ca  (Nov 2016)
Wanted – Postcards which are playable as phonograph records. Please contact Blaine at: mailto:martinac1@telus.net (Mar 2016)
Wanted – Topical interest of frogs and toads. If you have any frog and toad topicals you would like to sell or trade please contact Carol at: mailto:maoak@shaw.ca (Jan2016)
Wanted – Canada #177 Mt. Edith Cavell. Looking for stamp on cover or piece or mail tag etc. OR unusual items that can be used to add to a philatelic display. Contact Mark at: mailto:OMPA@shaw.ca (Jan 2016)
[Top]